Working at a dinner show, festival, restaurant, terrace, beach club, canal boat, hotel or wedding! Decide for yourself where, when and how much you work, follow FREE hospitality training and earn a good salary. Different or fixed locations in Amsterdam? Get 4x salary increase every year! Read more!
WerQdag is very flexible and therefore easy to combine with, for example, your studies. You decide for each week which days and hours you are available. Short on time? No problem. Do you want to work more? Then you work extra.
DECIDE FOR YOURSELF WHEN YOU WORK
Perfect to combine with your school or study
GOOD SALARY
4 times a year salary increase
GOOD ATMOSPHERE
Nice colleagues from WerQdag and various locations. We make sure that we, you and them get to know each other.
GROWTH OPPORTUNITIES
If you have gained more experience, you can grow as a cook on a canal boat, district head during a dinner show (supervision of 150 guests + team waiters) and party manager during events.
TRAINING
Experience not required. We are happy to teach you the tricks of the trade during the talent training, bar training and training weekends to Terschelling for a real hospitality experience and/or atmosphere in the Hotels van Oranje in Noordwijk.
AWESOME LOCATIONS
Work at the coolest locations such as Pllek, The Harbour Club, WesterLiefde and Strand Zuid.
The perfect side job as a student!
WerQdag feels like a student association. Lots of locations where you can work and feel right at home, lots of nice colleagues who quickly become your best friends, always open shifts when you are available and plenty of training opportunities!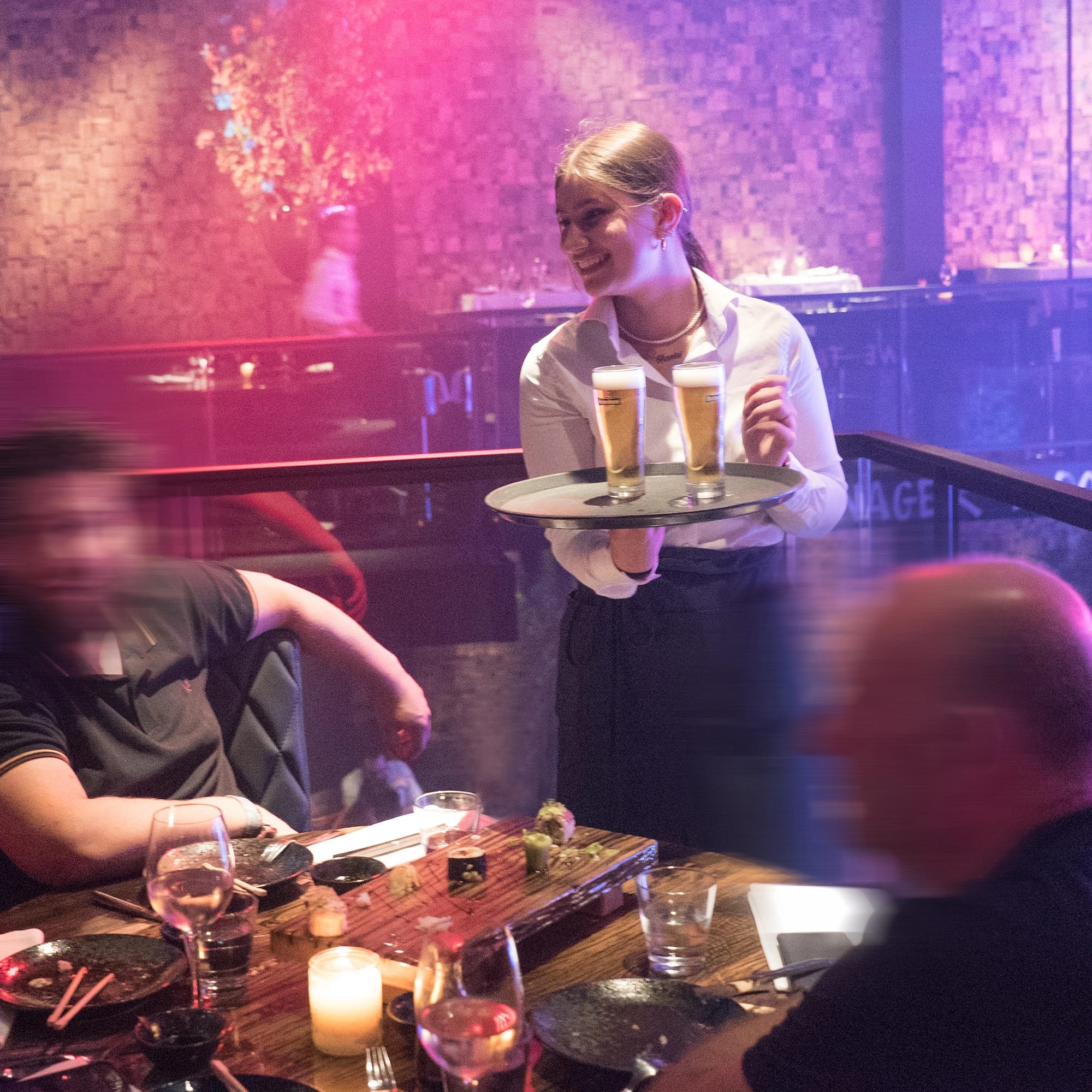 During a dinner show you serve your own guests during an amazing show with dance and music. On the canal boat you serve a 4-course dinner and during the festival you tap beers behind the bar. In the restaurant you can advise on delicious wines and dishes. At a wedding you serve delicious snacks and hand out the champagne glasses for the toast!
We are looking for enthusiastic employees who would like to work in the hospitality industry. Are you an experienced catering employee? Amazing, you can start today! Are you not yet experienced, do not worry, you will receive extensive training from us and you will be trained to become a real catering professional.
EXPERIENCE IT FOR YOURSELF
During our work we are super professional and hospitable. After work we organize parties and outings. See it for yourself!
Do you have extra time? Do you want to work a lot? That's convenient, because we have many different shifts for you!. Are you sometimes not that much available? No problem. Maybe you are absent for a while because of exams, a holiday with your friends, or you are partying yourself. 
Decide for yourself when you work!
Our employees will tell you why you should become their colleague!
"It means you're free whenever you want to (at least if you think things through while giving up your availability), you'll never get bored (and if you do, just go to a new location) and have lots u of fun nights with your colleagues ????"
"WerQdag offers a lot of flexibility, variation, fun and is easy to combine with your studies. You have a lot of input in when or where you work. The communication with the office team is very pleasant as well and they do their best to take your preferences into account. The vibe at WerQdag has more than once been compared to that of study associations. If you are looking for a flexible job, enjoy working in the hospitality industry and wouldn't mind having a drink or two with your colleagues after work, WerQdag is the perfect place to work for you."
"You'll get to work at fun locations and events you did not even know existed, you get to meet a lot of new people from all over the world and you have the freedom to decide your schedule yourself."
"A while ago we had one of our famous 'sterrenborrels'. This is the perfect moment to meet all your colleagues while enjoying a drink or two. And on top of that you can see if you made a promotion in the star system.
One of our newest colleague Danielle just landed in Amsterdam and joined the party to meet all of us. What a start of your WerQdag carrier! We organise these Sterrenborrels twice a year, but if you missed this one no stress. WerQdag organises a lot more events for "teambuilding". Hope to see you all at the next party!"